The 5 stars Château de Lez-Eaux campsite in the bay of the Mont Saint-Michel, between Granville and Avranches
The Château de Lez-Eaux campsite is a 5 stars institute in the heart of the Cotentin, in the bay of the Saint-Michael's Mount
We are pleased to welcome you in one of our many camping pitch, in a Mobil-home or a chalet fully equipped.
Enjoy the proximity with the Mont Saint-Michel, in a calm and relaxing environment for your holiday in family, as couple or with friends.
Ideally placed at the Brittany's door, in Normandy, few kilometres from the endless beaches of the Cotentin and from the Granville beach. You can discover the typical city of Avranches in the Manche and Saint-Malo or Cancale, both are in Brittany.
With this geographical proximity, you will enjoy the most beautiful sites in Normandy and make your holiday a touristic one. You can also take a boat to find out the Channel Island (Jersey Island and the archipelago of Chausey) from the harbour of Granville. Unavoidable sites in the region.
Then, you can explore the Saint-Michael's Mount and its famous abbey which offers you a breath-taking sight, all along the year, on the bay of the Saint-Michael's Mount. For the gourmets, there is the Mère Poulard's cuisine, if you want to discover the famous recipe of this brand.
To organize your holiday in Normandy, do not hesitate to ask for advice at the reception of the Lez-Eaux campsite. Our team will explain you where to go and what not to miss in our region and the cost of those visits.
Book your accommodation in Normandy at the Lez-Eaux campsite for your holiday in family.
You are looking for an accommodation for your family ?
The Lez-Eaux campsite offers you many possibilities, such as Mobil-home, Chalet or camping pitch fully equipped.
These are placed in the heart of the domain. There are 12 hectares area which are prepared to welcome you to make your stay as much as comfortable it can be. The accommodations are ready to be booked in either high or low season.
For holiday in family or with friends, you can find camping pitch for a campervan, a caravan or a tent.
---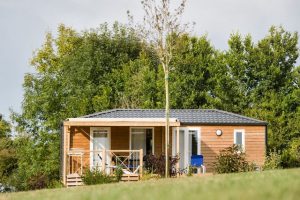 Our Mobil-home and chalets can welcome 8 people maximum and have 2 or 3 bedrooms, a private bathroom and a living room with a kitchen. There is the possibility to have a private Jacuzzi on the terrace of your accommodation (Mobil-home or chalet).
---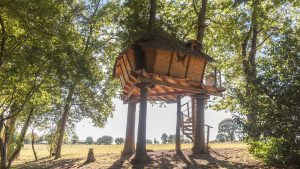 For lovers, we advise you to choose a weekend in a treehouse where you can sleep at 4 or 6 meter high and have a wonderful view of the Château de Lez-Eaux campsite.
---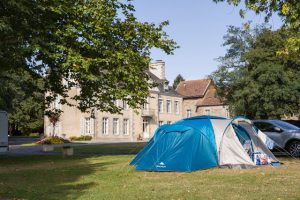 All over the domain of Chateau de Lez Eaux, we offer large camping pitches from 100 to 200m².
Each pitch provides electricity. You also book a pitch with the water and drainage, hard standing pitch and even a premium pitch.
---
There are facilities for the youngest children like the bouncy castles and electronic games for older ones.
Our facilitators are there to do activities and entertainment with all your family all along your stay at the campsite.
There is also a unique aquatic resort for about 1300 m² area with an indoor pool and natural vegetation.
We have an outdoor swimming pool to fully enjoy the sun.
There are facilities to do your laundry and so on, this makes your holiday easier and better to organize.
Your accommodation in the Lez-Eaux campsite, a 5 stars institute with facilities for children and activities for everyone, nearby Avranches and the Channel Islands.
 In the heart of the Cotentin, in the Manche. We offer you the possibility to be close to the beach and famous touristic sites of the region.
The Lez-Eaux campsite is in Normandy at the Brittany's door. Nearby Saint Malo and Cancale, the Lez-Eaux campsite offers you many accommodations to enjoy a stay in Normandy, for a weekend or holiday in family, friends and as a couple.
Take a boat from the Harbour of Granville or Saint Malo to go to the Jersey Island or Chausey Island. You can have any information about those at the reception. 
At summer time our team propose you their services to enjoy your stay as much as possible. Entertainment are done for leisure or to practice some sport during your stay (swimming, soccer, volley-ball, concert …)
Do not hesitate to contact us to know about the price of an accommodation or camping pitch. We will be pleased to advice you on the touristic sites to visit and the region.
Animals are welcome in the camping and your accommodation.