Mobil-homes in the domain of the Lez-Eaux campsite nearby the Mont Saint-Michel
Your fully equipped accommodation in Normandy for all your family at the 5 stars Lez-Eaux campsite with indoor swimming pool
Perfect for a stay in family or with friends, the Mobil-homes of the 5 stars Château de Lez-Eaux campsite, are thought to be the most comfortable possible.
It can welcome from 4 to 8 people maximum, with 2 or 3 bedrooms, those accommodations offer a nice way to enjoy a stay at Lez-Eaux campsite. There is a fully equipped kitchen and a living room on each of them and bathroom with separate loo. Beds are already done at your arrival, so you can have a rest and enjoy a drink at your terrace, there is also a barbecue and a set of garden furniture.
You can park your car at the accommodation. Everything is done to make your stay in family in the bay of the Saint-Michael's Mount a nice and unforgettable one.
Animals are welcome without paying anything.
There are also accommodations for handicapped person.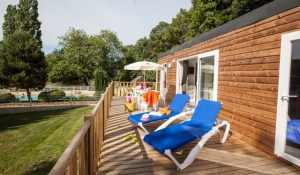 Have a relaxing time in your own private Jacuzzi in your 2 or 3 bedrooms Mobil-home.
You are willing to have a peaceful time, book an accommodation with 2 or 3 bedrooms with private Jacuzzi and a set of garden furniture on your terrace at the Lez-Eaux campsite in Normandy.
The peaceful place is perfect to enjoy the Jacuzzi. You can out a toe in the 38 degrees water and have a relaxing time. It can welcome 5 people maximum, have water jets and lights to enjoy it at night.
You have long chair to have a sunbath. There are bathrobes when you go out of the Jacuzzi, then you can book for a massage, once a week in July and August.
Perfectly placed in the bay of the Mont saint-Michel in Normandy, it's really easy to go to the beach for a day in family there. You can enjoy touristic sites to visit the landing beaches of the D-Day, the tapestries of Bayeux, Cotentin's coast or the peace memorial in Caen.