Het waterpark van de camping Lez-Eaux voor Uw vakanties in de baai van de Mont-Saint-Michel.
Een bijzonder waterpark met overdekt zwembad in Normandië
De Camping Château de Lez-Eaux stelt tot Uw beschikking dit bijzondere waterpark voor Uw vakantie in Normandië. Een heel groot pluspunt van onze 5-sterrencamping is dit waterpark met overdekt verwarmd zwembad, die U het plezier van zwemmen garandeert in elk moment van het seizoen.
Met een oppervlakte van 1300 m2 is het overdekte zwembad van Uw camping in Normandië ideaal om uitstekende momenten door te brengen met familie of vrienden. U vindt er een serre met natuurlijke planten en verwarmd tot de ideale temperatuur van 29 graden.
Beschikbaar voor alle dagen gedurende de opening van de camping van Château de lez-Eaux en natuurlijk gratis toegankelijk voor al onze gasten. Uit hygiène oogpunt wijzen wij U erop, dat het dragen van boxershorts niet is toegestaan. Het zwembad is toegankelijk voor minder validen.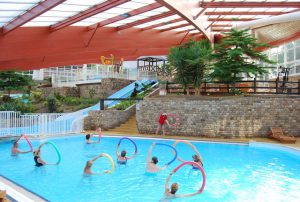 Er zijn spelletjes voor Uw kinderen en ligstoelen ter ontspanning vlakbij het overdekte zwembad.
Het vrolijke gelach van de jongste kinderen klingt door de speels aangelegde zwembaden, uitgerust met spelletjes en peuterbad ontworpen voor peuters.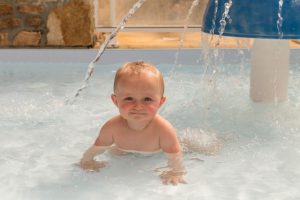 Ons animatieteam is ook aanwezig om activiteiten voor jong en oud te begeleiden. Uw kinderen zullen urenlang in het water spelen en op onze waterglijbanen van 72 en 45 meter heen en weer roetsen!
Terwijl sommige mensen hun energie gebruiken in het zwembad van camping Lez-Eaux, zullen anderen zich ontspannen door plaats te nemen op een van de vele ligstoelen, die voor U beschikbaar zijn aan de rand van het water onder het glazen dak met tropische vegetatie.
Ons animatieteam bied je het hele seizoen activiteiten en animaties, zoals Aquatonic Awakenings in het waterpark of de Zumba-lessen op het terras van de bar.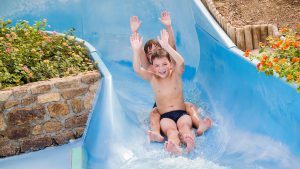 Reserveer Uw accommodatie op de 5-sterren camping voor Uw verblijf te midden van de natuur, dichtbij de Mont Saint Michel in Normandië.
Ontdek onze campingplaatsen in een ruimte, waar de natuur bewaard is gebleven en kies voor vakantie als gezin in een sta-caravan, chalet met alle komfort en terras in Manche met 2 of 3 slaapkamers.
Omdat we Uw comfort belangrijk vinden bieden we U zelfs de mogelijkheid om een eigen jacuzzi te hebben op het terras van Uw stacaravan voor een moment van ontspanning als gezin.
Er is ook een speelruimte buiten voor de allerjongsten. De kampeerplaatsen zijn voor campers, tenten en caravans in hoogseizoen en laagseizoen.
Voor elke inlichting over de huur van een kampeerplaats voor een caravan, tent of camper of om alles te weten over onze verhuurvoorwaarden voor een stacaravan of chalet, met of zonder eigen jacuzzi op het terras , aarzel niet om contact met ons op te nemen.