The 5 stars Lez-Eaux campsite in the Manche will offer you plenty of activities for your touristic stay in Normandy
Our activities during summer time in a family and convivial way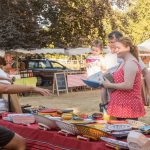 The Château de Lez-Eaux campsite will welcome you in the bay of the Saint-Michael's mount in the Manche, between Granville and Avranches, near by the beach. We are longing to offer a natural space to relax in Normandy.
We have a park, heated outdoor swimming pool and indoor one waiting for you.
To make your stay unforgettable, we organize different activities each year. You can see a music concert of pop, rock or variety music; twice a week with an aperitif at the terrace of the 5 stars Lez-Eaux campsite's bar, at 8pm.
Every Tuesday, in front of the castle, at 5pm, you have a market with home produce from Normandy, unavoidable rendezvous of our institute.
Activities for young and older people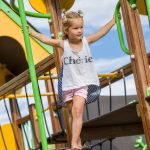 Choose your accommodation among plenty of different one for your stay at the Château de  Lez-Eaux campsite. To preserve a family atmosphere, our facilitators are there for your children.
At the kid's club, for 4 to 12 years old children, our facilitators will look after them, to play and have entertainment. For sure they will enjoy the merry go round, playgrounds, bouncy castles or the electronic games, pool game and flippers.
Ask the reception of your campsite in the Manche for further information.
Choose between sport and relaxing time
You are willing to have a relaxing time after a long year working ? Your holiday at the Lez-Eaux campsite in Normandy is there for you.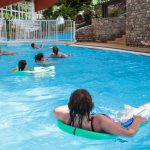 Indeed, with an exceptional natural space to relax yourself, our masseuse will come every Tuesday in July and August for a pure relaxing moment, book it at the reception of the campsite. You can have information to have an access to the Prévithal Thalassotherapy for more healthcare or aesthetic care.
Every Tuesday morning at 9am at the indoor swimming pool, except on Saturday, you have an aqua tonic wake up, also there are Zumba's lessons, footing in the Manche's countryside for who wants to have a healthy holiday. There are bike renting, tennis court, soccer field and volley-ball field, they are all free access.