The aquatic resort of the Lez-Eaux campsite for your holiday in the bay of the Saint-Michael's Mount
An exceptional aquatic park with an indoor swimming pool in Normandy
The Chateau de Lez-Eaux campsite has an exceptional indoor aquatic park for your holiday in Normandy.
One of the best reason to go in our 5 stars campsite is the aquatic park, with a heated indoor swimming pool. Don't mind about the weather, you will enjoy swimming at any time.
The resort is about 1300 m² area, the indoor swimming pool is perfect to enjoy time in family or with friends. There is a natural vegetation and it's heated at 29 degrees.
Open every day during the opening of the Château de Lez-Eaux campsite, 2018 march the 29th until september the 16th . It is obviously free for our residents during their stay.
For a good hygiene, we precise that shorts are not allowed.
An access is guaranteed for handicapped person.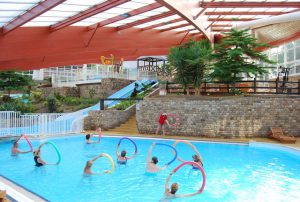 Games and leisure for your children, sunbathing to have a relaxing time near by the indoor swimming pool.
There is a paddling pool for the youngest swimmer and also water games to make your children laughing.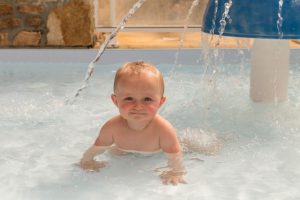 Your children will spend hours playing in the swimming pool, enjoying the 72 meters water slides or the 45 meters one.
While some will spend their energy in the aquatic resort, others will relax their selves on a long chair to fully enjoy the tropical vegetation of the resort.
Our facilitators offers you all along the season some activities and entertainment, such as the aqua tonic wake up or zumba's lessons on the pub's terrace.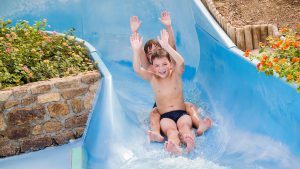 Book your accommodation in the 5 stars campsite for a natural holiday near by the Mont Saint-Michel in Normandy.
Discover our camping pitches in a space where nature is preserved or choose holiday in a Mobil-home or a chalet fully equipped with 2 or 3 bedrooms and a terrace.
Because we are longing to make your holiday the best it can be, there is the possibility to have a private Jacuzzi on the terrace of the accommodation.
There are playgrounds outside for children.
The camping pitches are thought to welcome either campervans, caravans or tents in low or high season.
To have any information about your accommodation (Mobil-home, chalet, private Jacuzzi) or camping pitch, do not hesitate to contact us.